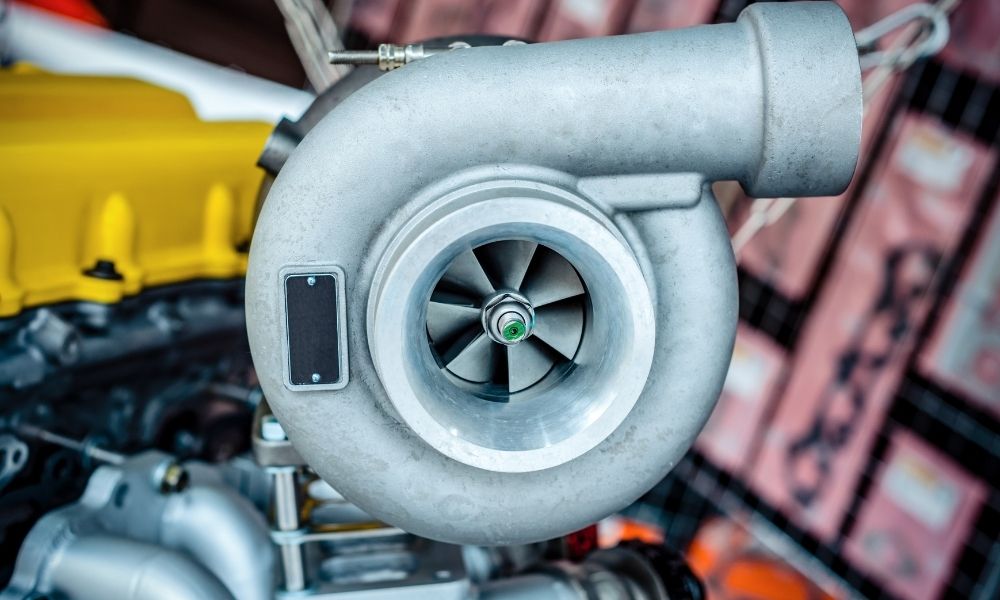 Turbocharged engines come with a host of benefits ranging far beyond an increase in engine speed. However, any vehicular overhaul comes with some drawbacks along with its advantages. Many cars come with a turbo, and you can upgrade those that don't have it already. Do you want it? We'll help you decide by breaking down the pros and cons of turbocharged engines.
Turbocharger Function
So, what does a turbocharger actually do, and how does it work? In the simplest terms, a turbocharger is a gas compressor that pushes extra air into your engine's intake manifold. This leads to higher combustion pressure, which allows your engine to burn more fuel. Turbochargers take energy from your exhaust pipe for power, meaning that they use energy that usually goes to waste.
The exact efficiency varies by situation and vehicle, but estimates say that your engine is anywhere from 5 to 20-percent more efficient with turbocharging. After the combustion cycle finishes, the gas leaves the combustion chamber, passing through the turbocharger and spinning a compressor wheel. This brings cool air from opposite the turbocharger and causes the process to repeat.
As the driver, you control the turbocharger from the driver's seat. It doesn't produce additional power until you press down hard on the accelerator and tell it to start doing its work.
Increased Upkeep Requirements
Putting a turbocharger on a smaller engine requires the engine to work harder, increasing the need for maintenance. With more power comes more strain on your internal components like the valves and pistons. The temperature increase is also significant, and higher temperatures cause more wear and tear, too.
The turbocharger also needs to function with these increased stressors, and the shaft must remain lubricated with engine oil. The greater demand requires higher-quality engine oil, which deteriorates more quickly in higher temperatures. Normally, driving a few extra miles after your oil change indicator turns on is no problem. The same isn't true when you have a turbocharged engine.
In the end, you're not just splurging on high-quality engine oil. You must have your car serviced more frequently to keep up with a turbocharged engine's demands.
Turbocharged Engine Reliability
More moving parts equate to less reliability. That's also true of almost any performance upgrade. When you add pieces to fix a problem, more components can break. With an exhaust wastegate setup, an intercooler, a vacuum pump, and the turbocharger itself, there are plenty of complex moving pieces that weren't in your car before.
As your cylinder walls wear down and your piston rings wear out, pressure increases inside the crankcase. As the pressure mounts, oil leaks can crop up and make for a tricky fix.
With all of that said, people who are passionate about cars and engines can put in the time to ensure they properly care for their turbocharged system. Turbocharged engines aren't doomed to fail from the start. But they do require owners who will service their vehicles effectively and often.
Turbocharge vs. Supercharge
If you're researching turbocharged engines in-depth, you've probably heard of supercharged engines, too. Both options work towards the same goal of increasing power by forcing extra air into your engine. However, they go about that goal in different ways.
While a turbocharger collects exhaust gases to spin the compressor wheel and add air to the engine, a supercharger attaches to your crankshaft with a belt. The belt's movements cause two screw rotors inside the supercharger to spin, leading compressed air to feed into your engine. At the bottom of the supercharger, there's a route for air to escape when discharged.
Who Needs a Turbocharged Engine?
What are the applications of a turbocharged engine? They're ideal for consumers concerned with fuel efficiency because of their ability to reuse expended exhaust gases.
Due to increased demand worldwide for more efficient vehicles, turbocharged cars and trucks have become more prevalent. As governments issue emissions targets for car manufacturers, expect to see more turbocharged vehicles on the market. For example, both the US and Europe have seen significant increases in the sales of turbocharged vehicles in the past several years.
Pros of a Turbocharged Engine
The main benefit is easy to see: a turbocharged vehicle boasts a faster, more powerful ride. This contributes to another advantage, too—a turbocharged car can accept many more horsepower upgrades. If your goal is to turn your vehicle into a performance-focused beast, turbocharging is an easy choice to make.
With the utilization of exhaust gases, turbocharged vehicles also see a boost in fuel efficiency. When driven with fuel economy in mind, your car drives more cleanly and efficiently than non-turbocharged cars with the same power.
Upgrading an engine with a turbo is excellent for manufacturers and consumers because manufacturers can install smaller turbocharged engines (these cost them less money) instead of larger engines without turbocharging. This results in more affordable cars with the same performance as vehicles with larger engines.
Cons of a Turbocharged Engine
Of course, turbocharging is not without its pitfalls. As we discussed earlier, turbo increases wear and tear while demanding higher-quality oil (and you might need to consider using better gas, too). With premium supplies and frequent maintenance, the savings of fuel efficiency may not help you much.
It's also important to remember that you need to drive thoughtfully to see fuel efficiency benefits. Aggressive drivers may end up burning more fuel with a turbocharged engine. Your engine needs the right air-fuel mixture ratio to operate well. So, the more you force oxygen into your engine, the more fuel you'll use to compensate.
What you need to determine is how important performance is to you. By all accounts, turbocharged engines perform better and, at the very least, offer you the chance to improve your fuel efficiency. All told, turbocharged engines are excellent choices for responsible car owners who will put in the time for proper maintenance and maintain thoughtful driving habits.
If you decide to upgrade your ride, consider adding a turbo exhaust manifold to your vehicle to ensure the best performance possible. Now that you understand the pros and cons of turbocharged engines, you can make an educated decision with all the facts.
Sep 14, 2021

Category:

News
Comments: 0