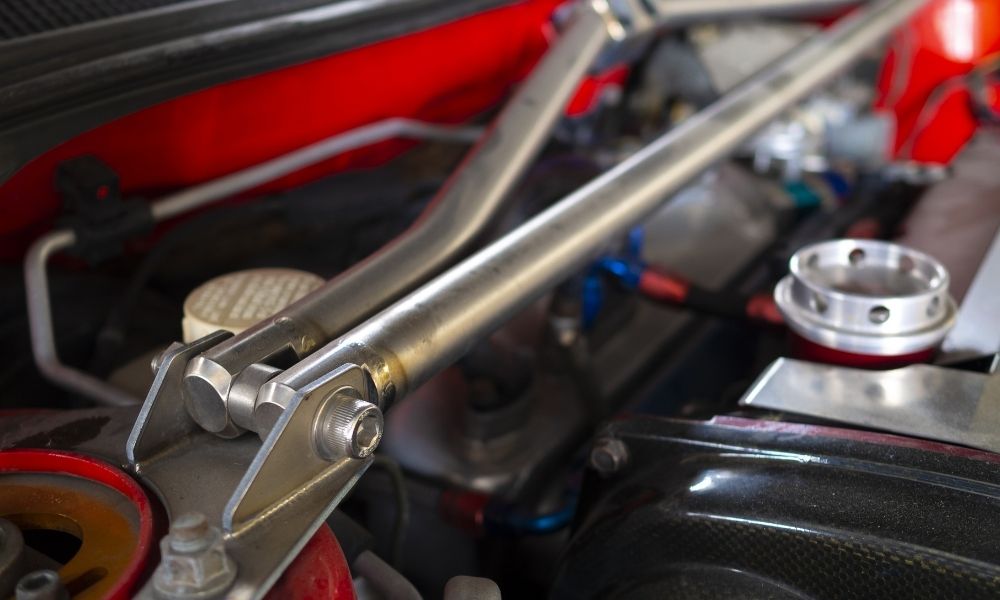 Strut bars connect your front or rear strut towers to add rigidity to your car. Depending on your make and model, you'll notice a big effect or no effect at all on handling improvement. Read on and we'll explain what you need to know about strut bars.
What Do Strut Bars Do?
Strut bars (or strut braces, or strut tower braces) are hard metal rods that connect your strut towers from left to right. The goal is to reinforce your chassis by linking these two stress points. They were specifically designed to aid the MacPherson strut suspension system. Some other vehicles can benefit from strut bars, even if they have a different suspension setup.
Handling Improvements
Strut bars are made to help out your car in tough handling situations like taking sharp corners or hitting a bump on the highway. It's important to note that strut bars won't increase your speed or horsepower.
Pros and Cons
Every car modification you can make comes with benefits and drawbacks and strut bars are no exception. Here's a list to help you decide if it's worth it to install strut bars.
Pros
Old, lightweight cars often have issues with handling and stability, like sway and body-roll problems. A stiffer chassis helps out in these situations and makes your car feel safer and easier to drive.
Because strut bars redistribute tension and stress when cornering sharply, wear and tear decreases significantly. Usually, one half of your car suffers when cornering, but strut bars evenly distribute force and pressure across your entire chassis.
Strut bars are also very easy to install. You can save money by installing them yourself as long as you have a socket set handy.
Cons
Even distribution of stress is great on the road, but less ideal when off-roading. If you take your vehicle off paved roads and over rocks, you'll want your suspension to be able to function independently.
Strut bars offer no benefit when driving in a straight line. They're excellent for cornering and steering over uneven surfaces, but if your driving habits don't see much deviation from straightaways, this modification may not make a lot of sense.
Now that we've explained strut bars and what you need to know, decide if picking up a Honda Civic rear strut bar is right for you and take corners with no problem.
Oct 14, 2021

Category:

News
Comments: 0