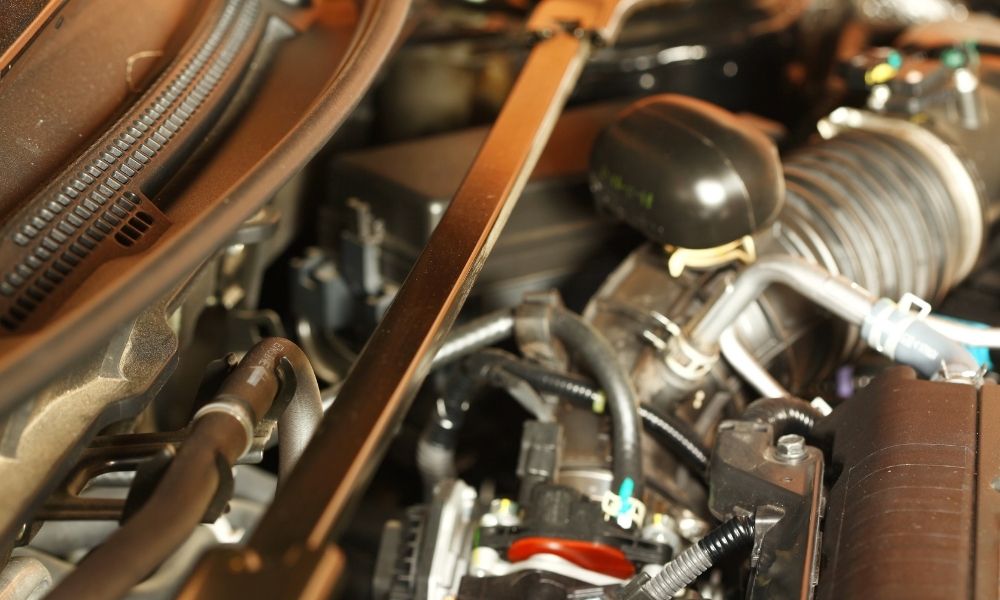 Handling is of the utmost importance when driving a car you love—no one wants to feel like they're not in control behind the wheel. Many older cars are prone to problems with body roll and chassis flex, and that's where the strut bar comes in. Keep reading to learn how strut bars drastically improve handling!
What Is a Strut Bar?
A strut bar, strut brace, and strut tower brace are all the same thing: a rod that laterally connects your vehicle's suspension strut towers. Strut towers are a stress point in all cars, but they become much more critical on an older vehicle that already struggles with chassis flex. A strut bar reinforces your whole chassis by tying these points together.
Strut Bars and the MacPherson System
Many vehicles have a MacPherson suspension system. While this setup is simple and comes with predictable handling, there are many moving parts. Combine those moving parts with the wear and tear the average suspension experiences, and you have a problem. Your bearings can wear down, your coil springs might crack, and your struts can leak and deteriorate over time.
The biggest issue is that a MacPherson system bears its load at the top, where the strut assemblies connect to the body of your vehicle. Therefore, hard corners or high-speed bumps cause extreme pressure on your strut tower. If it's a significant enough bump, the pressure can temporarily skew the alignment of your suspension geometry, which is never a good thing.
A changed alignment is a recipe for unpredictability, and unpredictability is dangerous at high speeds.
Handling vs. Performance
Many people confuse handling and performance, but these terms are extremely different. While performance refers to speed and acceleration, handling is all about feel and stability. A car may have the capacity to travel at high speeds (performance) but may lack the ability to manage those high speeds effectively and safely (handling).
Installing a strut bar will not improve your vehicle's performance. There's no connection between strut braces and acceleration, but you may find that you're able to push your car further than you normally can. While your top speed won't increase, your track time might, as you could feel safer cornering at higher speeds.
Front vs. Rear
You can install strut bars at the front of your car, the rear, or both. If you want to increase understeer, you should focus on your front strut bar. Oversteer, however, increases when you install strut bars in the rear of your car.
You'll want to combine the strut braces with aftermarket ball joints and bushings to get the most out of the upgrade, and you can also consider sway bars for an even more drastic handling change.
Benefits and Drawbacks
Any car modification comes with considerations and consequences, both positive and negative. Strut bars aren't definitively "good" or "bad"—they're either right for your situation or they aren't. Check out these advantages and disadvantages and determine whether your vehicle could benefit from a strut brace installation.
Benefit: Stiffer Chassis
If you have an old, lightweight vehicle, strut bars are among the best upgrades you can make. Many of these machines have significant problems with body roll and sway, and strut braces address these issues like nothing else. A newer car that already feels stiff may not undergo as significant of a change. An older car could benefit—consider Civic strut bars.
Drawback: Off-Road Performance
Many off-road vehicles don't want a stiffer chassis. They function best when the suspension functions independently, so they can take uneven surfaces easily. If you're planning to take your car or truck off-road for any prolonged period, strut braces probably aren't for you.
Benefit: Less Wear and Tear
People who take their cars out on the track will likely have either their left or right strut tower in a worse state of disrepair, depending on the direction they normally turn in. Strut bars help redistribute the pressure of cornering so that your left and right strut towers wear evenly. Uneven wear means more frequent fixes, and who wants that?
Drawback: No Straight-Line Difference
Some upgrades improve performance or handling in all situations, but strut braces only assist in cornering or steering on uneven surfaces. If you spend most of your time driving in straight lines (on the highway or on a drag strip), you'll never notice the strut bars.
Benefit: Good Under-Hood Look
There's no shame in a cosmetic upgrade! Aesthetics play a big role in many car modifications, and let's face it: a strut bar is a great-looking addition to an engine bay. Even if you have a newer vehicle that doesn't need strut bars, you may want to consider the installation for looks alone.
Drawback: Takes Up Space
Many car enthusiasts have big plans for their engine bay, with ideas for modifications constantly in their thoughts. These people may not want strut bars simply because they'll take up space in the engine bay.
Benefit: Easy Installation
Once you've got strut bars designed for your vehicle, installation is easy as pie. The braces are made especially for each car, so there's no need for soldering irons or circular saws. Most of the time, you don't need anything other than a socket set!
Pop open the hood, clean up the strut towers, and unscrew the stock nuts. The only thing to look out for is whether there's enough clearance with your hood—then, install the strut bar, and you're all set.
Benefit: Affordability
Strut bars only cost a few hundred dollars, making this one of the less expensive modifications out there. For that reason, it's a good place to start if you're just beginning your upgrade journey!
What To Look For in Construction
Your strut bars are only as strong as their weakest point, so construction is critical. Steel is your best bet for strut brace material, but aluminum can work as long as it's bulky enough to function without flexing.
Now that you know how strut bars drastically improve handling, consider picking one up for the front or rear of your vehicle and take corners with ease!
Jan 12, 2022

Category:

News
Comments: 0